Nettoyage femme de ménage résidentiel et commercial
Entretien Ménager et femme de ménage
Garantie de services de nettoyage résidentiels et de bureaux
Notre signature Smart Clean est basée sur un processus en 40 points qui nous permet de garantir à nos femmes de ménage de nettoyer votre maison entière de fond en comble. Avant de quitter votre domicile, notre équipe de 2 personnes effectuera une inspection en 40 points pour s'assurer qu'aucun aspect n'est oublié! Vous remarquez que quelque chose dont vous avez besoin manque dans notre processus en 40 points? Spécifiez simplement vos besoins souhaités et nous nous en occuperons!
Services de nettoyage programmés
Nettoyeurs vérifiés
Liste de contrôle en 40 points
Réservez, gérez et payez en ligne
SmartMaids® Garantie un Nettoyage Parfait
SmartMaids® vous propose un service de conciergerie à domicile, Airbnb ou bureau facile et efficace! Réservez en ligne et planifiez votre nettoyage aujourd'hui. Si vous avez besoin d'un service de nettoyage professionnel à domicile ou d'un service de conciergerie, n'hésitez pas à réserver un service de nettoyage avec nous. Smart Maids ™ offre une garantie de propreté parfaite: Pas satisfait, nous le ferons dans les 24 heures. Appelez-nous aujourd'hui pour réserver un nettoyage: 1 800 536 2437/1 514 612 2280
1
Réservez votre
Nettoyage
Services de planification en ligne qui font gagner du temps. Économisez gros en réservant en ligne!
2
Consistent
Nettoyeurs experts
Nos nettoyeurs experts sont toujours aimables, courtois et en sécurité.
Pourquoi nos clients nous aiment!
Sharon S.
Ladies did an amazing job! Very pleasant, hard-working & professional. Really appreciated having my house thoroughly cleaned all at once. I will continue to use their great service and highly recommend Smart Maids.
Shawn Schaffer
I would be glad to act as a phone reference for your company. Cleaning did a wonderful job and I certainly don't mind confirming their outstanding service. If you're thinking about hiring to clean your office building…
Helga H.
Joy and Helen, thank you so much for the great job you've done! I was really impressed: every tiny corner was thoroughly cleaned, every blanket was carefully treated, every cup was washed with love and attention. You really exceeded my expectations.
Amy Schellenberg
I contacted SmartMaids when I was going to be having overnight guests stay with me but I was just returning from a trip when they arrived – so I had no time to prepare and clean myself. When I arrived home, I could not have been more pleased. My house looked and smelled wonderful, …
Cassandra McRae
Excellent service de nettoyage! J'ai appelé Smart Maids pour qu'il fasse un nettoyage en profondeur avant que ma maison ne soit mise sur le marché. J'ai été très satisfait de ce service et toute ma maison a brillé lorsque Catou et Clarissa ont terminé. J'étais capable …
Shuja Khan
Super service! Takes their time and pays great attention to detail. Joy is fantastic!
Lilly Dragu
I was very impressed with the team (Debbie and Cassandra) dispatched to my apartment at the end of May, very happy with their service and I would like to continue to have this very team once a month. I really really liked them both.
Marie-France Cote
Helen is very friendly and accommodating. Both the ladies worked very hard and always do a nice job! Thank you!
Maria Macheras
We use their services every 2 weeks for our parents who have health issues and can no longer maintain their home. Reliable, efficient service and excellent quality. Thank you to Cassidy and Helen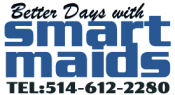 5637 Chemin St François,
Saint-Laurent, QC
Nettoyage
intérieur du four
Coupons Apres Déménagement
Cadeaux
Pour le mois de juillet seulement!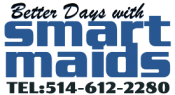 5637 Chemin St François,
Saint-Laurent, QC
$40 Rabais
sur un nettoyage récurrent (6 mois)
La facture totale pour le nettoyage doit être égale ou supérieure à 150 $
Rabais $40.00
Offre valable jusqu'au 20/11/2020.